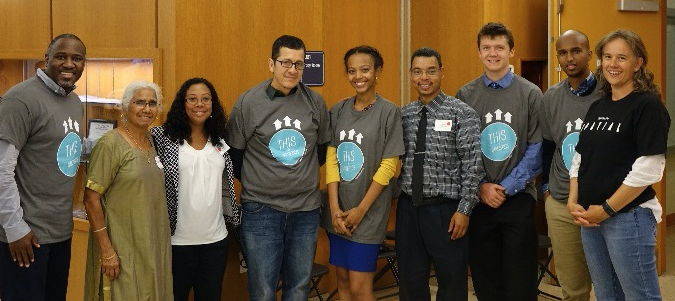 StatFest is a one day conference aimed at encouraging undergraduate students from historically underrepresented groups to consider careers and graduate studies in the statistical sciences. StatFest 2018 will be taking place on Saturday, September 22nd. Be sure to save the date!
The conference is an ongoing initiative of the American Statistical Association through its Committee on Minorities in Statistics.
It includes presentations from established professionals, academic leaders, and current graduate students that will help attendees understand the opportunities and routes for success in the field.
Panel forums provide information and tips for a rewarding graduate student experience, achieving success as an academic statistician, opportunities in the private and government arenas, among other topics.
We are excited that StatFest 2018 will be held at Amherst College, one of the premier liberal arts colleges in the nation, enrolling 1,800 talented, energetic and diverse young men and women.
For more information please contact Nicholas Horton, Renee' Moore (renee.moore@emory.edu) or Jesse Chittams (chittams@nursing.upenn.edu). We encourage institutional contacts to sign up for more information at https://goo.gl/forms/LamUKFuhtHHfbuPR2.

StatFest 2018 Organizing Committee
Jesse Chittams (University of Pennsylvania)
Adrian Coles (Duke Clinical Research Institute)
Nancy Griesinger (Texas Southern University)
Felicia Griffin (Winston-Salem State University)
Nicholas Horton (Amherst College)
Reneé Moore (Emory University)
Adriana Perez (University of Texas School of Public Health)
Nagambal Shah (Spelman College, emerita)
Dionne Swift (Procter and Gamble)
StatFest 2018 Local Organizing Committee
Jenny Baglivo (Boston College)
Ajanae Bennett (Prudential Insurance)
Brittney Bailey (Amherst College)
Karen Benway (University of Vermont)
Marcel Carcea (Western New England University)
Rick Cleary (Babson College)
Allen Downey (Olin College)
Randi Garcia (Smith College)
Bob Goldman (Simmons College)
Ofer Harel (University of Connecticut)
Nicholas Horton (Amherst College), chair
Manolis Kaparakis (Wesleyan University)
Albert Kim (Amherst College)
Shu-Min Liao (Amherst College)
Ethan Meyers (Hampshire College)
Grace Montoya (Amherst College)
Son Nguyen (Bryant University)
Liam O'Brien (Colby College)
Evan Ray (Mount Holyoke College)
Amy Wagaman (Amherst College)
Susan Wang (Yale University)
Ting Zhang (Boston University)
Links
Conduct policy
As a professional society, the American Statistical Association (ASA) is committed to providing an atmosphere that encourages the free expression and exchange of ideas. Consistent with this commitment, it is the policy of the ASA that all participants in ASA activities, including StatFest, will enjoy a welcoming environment free from unlawful discrimination, harassment, and retaliation. All aspects of StatFest are subject to the ASA's conduct policy.
Last updated February 21, 2018
authored by Nicholas Horton, Amherst College.