Note from Amy Wagaman (Statistics Director)
As Director of our Statistics Program, I'm pleased to share some statistics-related news from Amherst.
Our major has been growing at an incredible rate. We've been very excited to see the growth and all the wonderful students with passion for Statistics and Data Science. We had our first four inaugural graduates receive their degrees in 2015, and since then, we've had four additional graduates in 2016, and ten more in 2017. We're on track to have 20 graduates in 2018 and even more in 2019! We've also added some additional courses (STAT220, Bayesian Statistics; STAT231, Data Science; STAT320, Statistical Communication) and updated the curriculum in many others. We look forward to other new courses in the future.
We've begun discussions with other faculty at the college (from Departments including: Black Studies, Computer Science, Economics, Mathematics, Political Science, and Psychology, to name a few) about ways to grow a Data Science program.
We continue to benefit from the other colleges, universities, and companies in the Five Colleges and Pioneer Valley. I serve as liaison with the Five College Statistics Program, several of us are engaged with the Center for Data Science at UMass/Amherst, and we have partnered with Mass Mutual and their Data Science Development Program.
Last year's DataFest competition was another success, with more than 100 undergraduates from across the Five Colleges working to extract meaning from a dataset provided by Expedia. An Amherst team won best use of external data as part of the awards.
Our students have been studying and doing research all over the world. This year, statistics students have been studying abroad in Taiwan, Cuba, England, and New Zealand. They've been doing research projects in Auckland, Hong Kong, Minnesota, Pittsburgh, and Washington, DC.
We're proud that there were a number of student presentations and publications this year.
Jenn Halbleib (AC '18) - JSM poster and WIMIN '17 ("A Universal Measure of Household Wealth from Global Census Microdata")
Azka Javaid (US Undergraduate Statistics Project Competition): https://www.causeweb.org/usproc/eusrc/2017/virtual-posters/4
Azka Javaid (AC '17 undergraduate first author), Wang X, and Horton NJ. Using a 'Study of Studies' to help statistics students assess research findings, CHANCE, in press, https://arxiv.org/abs/1701.08438.
Sarah Teichman (AC '18) - WIMIN '17 ("Catching a Falling Ball with Reinforcement Learning")
Kim, S.W., Kim, E.J. (AC '15), Wagaman, A. S., and Fong, V.L. (2017) "A Longitudinal Mixed Methods Study of Parents' Socioeconomic Status and Children's Educational Attainment in Dalian City, China." International Journal of Educational Development 52C: 111-121, https://www.researchgate.net/publication/310840843_A_longitudinal_mixed_methods_study_of_parents'_socioeconomic_status_and_children's_educational_attainment_in_Dalian_City_China.
Did we miss any? If so, please let us know!
We've hosted a number of events and speakers. These include a talk by Joe Hogan (Brown University), a grad school panel (with faculty and graduate students from Yale, UConn, and UMass), a talk by Andreas Georgiou '84 (World Bank), Laura Balzer (UMass), and an extended visit from data scientist Patricia Ordonez (University of Puerto Rico).
New Faculty
We're incredibly excited that not one but two new tenure-track faculty members will be joining us this fall. We look forward to welcoming them both to the college this summer.
Brittney Bailey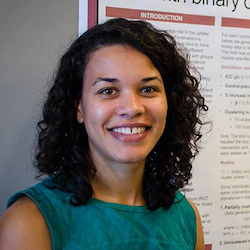 Brittney Bailey is a biostatistician finishing up her PhD at the Ohio State University. Her research focuses on the development of methods for the use of multiple imputation in clinical trials with nested designs. Her collaborative research has been focused on psychoneuroimmunology and nutrition.
More info on Brittney's work with the Institute for Behavioral Medicine Research was featured at StatTrak: http://stattrak.amstat.org/2016/07/01/classtocollab16/
Katharine Correia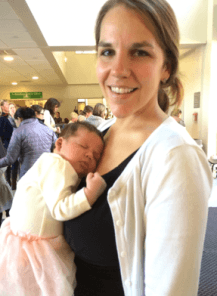 Kat Correia is a biostatistician finishing up her PhD at the Department of Biostatistics at the Harvard TH Chan School of Public Health. She received her MA in Biostatistics from Boston University and worked for several years at the infertility clinic at Brigham and Women's Hospital, Boston, MA. Her research interests are focused on the development of statistical methods to advance the quality of reproductive medicine research. More on Kat's story can be found at: https://www.hsph.harvard.edu/biostatistics/2016/03/student-stories-kat-correia/
StatFest 2018

Amherst College will be hosting StatFest 2018 on Saturday, September 22 in the new science center. StatFest is a one day conference aimed at encouraging undergraduate students from historically underrepresented groups to consider careers and graduate studies in the statistical sciences.
The conference is an ongoing initiative of the American Statistical Association through its Committee on Minorities in Statistics.
It includes presentations from established professionals, academic leaders, and current graduate students that will help attendees understand the opportunities and routes for success in the field.
Panel forums provide information and tips for a rewarding graduate student experience, achieving success as an academic statistician, opportunities in the private and government arenas, among other topics.
Interested in attending? It would be great to see you. You can find more info here.
Statistics and Data Science Fellows Program
Our Statistics and Data Science Fellows Program, generously funded by David and Jeanette Rosenblum, has also been growing, with many projects underway with our current group of fellows. They have been working as course TA's for STAT231 (Data Science), STAT360 (Probability), and STAT495 (Advanced Data Analysis), helping the Psychology department come up to speed with the use of R/RStudio for teaching and research, helping prepare statistical content for quantitative biology labs, working with Institutional Research and the Development office on studies of alumni engagement and the College Clearinghouse data, helping prepare other students for Data Fest 2018 (weekend of March 23-25 at UMass), and assisting with the organization of Stat Fest 2018.
Faculty Updates
Nick Horton
I've been traveling a lot during a fall semester sabbatical where I've been able to catch up on loose ends and start some new projects (while maintaining connections with my advisees, supervising an honors thesis, and chairing our statistics search). I've started work as a Mathematics Pathways Fellow with the Dana Center (at the University of Texas, Austin) and have been named a fellow of the American Association for the Advancement of Science. My co-authors and I published Modern Data Science with R earlier this year. I'm pleased that my chapter entitled "What is Statistics" was recently published in the International Handbook of Statistics Education Research.
Amy Wagaman
I've been very pleased that my research work in Statistics Education on Writing in Statistics (generally) and Computational Learning in Probability is going well. I've been invited to present on the work at the upcoming International Conference on Teaching Statistics in Japan. I authored a paper about Stat 240 (Math 330) Multivariate Data Analysis which was published in The American Statistician in 2016 (see link). I've also begun a new project (on top of several existing projects) with my collaborator Sheila Jaswal that uses Markov Chains to tackle a problem in Chemistry. We hope to submit a paper for publication later this year. The fall semester was packed with tasks relating to running a successful Statistics program, and I'm looking forward to a slightly more relaxed spring semester, with more time for me to spend with my new cat, Lily.
Alumni News
Jordan Browning (2017)
I've been doing software engineering for Amazon in Phoenix.
Stefany Flores-Ramos (2017)
I have been working as a research assistant in Katherine P Lemon's lab at the Forsyth Institute. In the Lemon lab, I am contributing to the development of genetic approaches for study the bacterium, Cutibacterium (formerly Propionibacterium) acnes. This bacterium has implications in the health and common skin disorder acne vulgaris and is important to study in order to expand our understanding of its role in the complex network of the human microbiota.
Azka Javaid (2017)
I am working at IBM as a data scientist in Watson Analytics. My work is a mixture of data science and development. I am working on the Watson Platform for Health GxP, which offers a regulatory compliant health data Platform as a Service (PaaS). In addition to creating and presenting R and Python data wrangling and modeling notebook demos to clients, I am also involved with development tasks like setting up repositories for loading R and Python packages on deployment clusters. Outside work, I am involved with side shiny applications.
Jonathan Jordan (2015)
I recently moved to Boston to pursue my new job. I used to be a consultant at Booz Allen (doing work related to data analytics), now I am a healthcare investment banking analyst at a boutique bank.
Caleb Ki (2017)
I am a Ph.D. student in the Statistics department at the University of Michigan.
Levi Lee (2017)
As the Amherst-Doshisha Fellow, I am working as an English teaching assistant at Doshisha University. My goal is to attend graduate school and be a statistics teacher/professor in Japan, and I believe that my current experience in Japan was been helpful in giving a sense of what teaching and working abroad is like.
Melody Owen (2017)
Since graduation, I moved to Pittsburgh with my boyfriend and two dogs, and am doing a masters program in statistical practice at Carnegie Mellon University. I graduate in May 2018 and I'm looking for jobs related to statistical research for veterinary medicine and animal welfare, and after a year or two of working I plan on applying to PhD programs in bio stats or epidemiology in hopes of being more involved with helping animals using statistics and data science.
Megan Robertson (2015)
After graduating from Amherst, I completed a Master's of Statistical Science from Duke University in May 2017. I traveled for a little bit after finishing grad school. I started as a data scientist at SimpleReach in New York City this month.
Amanda Rosenbaum (2016)
Since graduation, I have been working at Bloomberg LP in its Financial Products department.
Muling Si (2017)
I've been working as a quantitative researcher on the investment team of the factor-based strategies team at BlackRock in San Francisco since graduation.
Jarvis Sill (2015)
I am currently working at a financial technology startup called Street Diligence. My role is to develop new products and features (from a conceptual angle, not computer programming). I previously was doing investment banking. My current role does not require statistics day-to-day, although I will occasionally use some of the statistics I learned in proof-of-concept applications.
Trevor Smith (2016)
Starting July after graduation I worked as an Analyst for the Clinton Campaign at their headquarters in Brooklyn, NY, I was on the fundraising team and my roles on the campaign included running all analytics for our SMS list, using statistical test to figure out which donation asks produced the best results as well as how frequently we should text list members to achieve maximum results with out having people unsubscribe. I also pulled lists of names for mailers based on various demographics and ran data collection for our online voter registration system. Obviously things did not end well, but it was a great experience overall. I currently work at Capital One as an Analyst in Mclean, VA. I started that job in February and have worked on a variety of subjects from spend margin on credit cards to transaction fraud. The work is still interesting though it is less statistically rigorous than the work I did on the campaign.
Christina (Ningyue) Wang (2016)
I've been working in investment banking since graduation. I'm an analyst in the leveraged finance group at Macquarie Capital.
Olivia Xu (2017)
I graduated Amherst and immediately started working as a data analyst at a start-up weight-loss app company called Lose It!  My main responsibilities include database management, campaign analysis, and internal reporting.  
Alumni Survey
In addition to asking our graduates what they've been up to since they graduated, we also asked them to reflect on their time at Amherst and how we might have better prepared them for the real world.
40% of respondents said that they strongly agreed that their "undergraduate work prepared them to effectively analyze and interpret data critically using statistical and computational methods?", with 60% saying that they agreed. A total of 47% said that they agreed that their "undergraduate work prepared them to effectively communicate–both orally and in written form", with another 47% strongly agreeing. A
The results were helpful and encouraging:
"Recurrent group work and class presentations in the statistics curriculum definitely helped with learning how to work effectively in groups and how to present ideas and work coherently."
"the focus/emphasis on data visualization/interpretation was really helpful."
When asked what they might do differently, the responses included:
"A course in Real Analysis (MATH 495) would have been helpful in understanding more of the mathematics behind statistics. Unfortunately, I was unable to take this course due to timing and scheduling reasons. Taking more courses in Biology would have been helpful, especially upon realizing that I had developed an interest in Biostatistics."

"I would have taken more CompSci courses."

"I would have taken more computer science courses as well as more linear algebra and probability/analysis."

"I would have taken more computer science classes to at least become fluent in another computing language."
When asked what tools they use, the results varied (but see the following wordcloud for some sense of the distribution).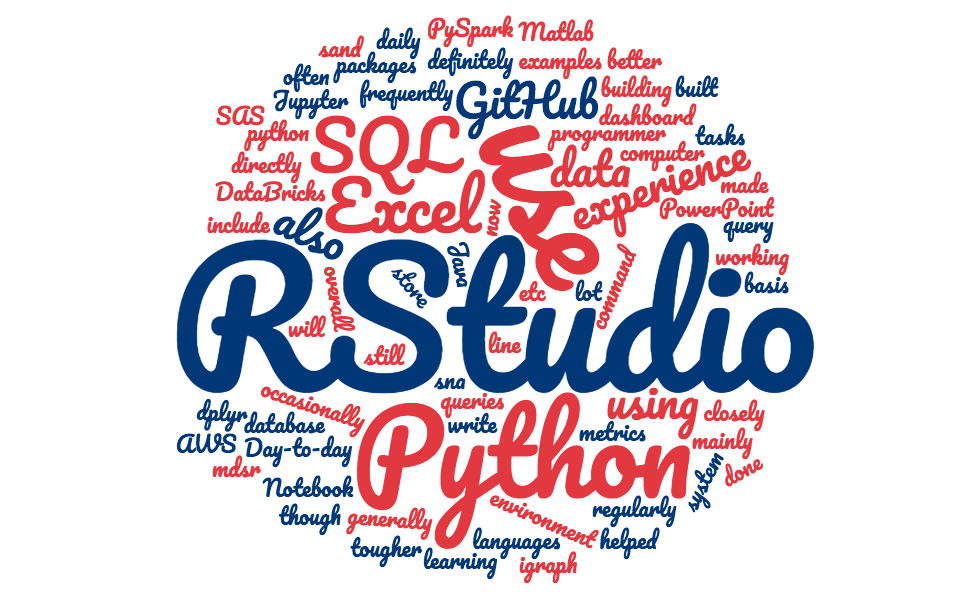 Other news?
Have other news you'd like to share? Please send it along. We'd love to hear about it.
Best wishes for 2018!
Amy Wagaman (director of the statistics program), Nick Horton, Albert Kim, Shu-Min Liao, and Pam Matheson.
Created February 2, 2018
Copyright © 2023 Amherst College. All rights reserved.