Greetings from Amherst College
We send our greetings from Amherst where we are just finishing the academic year. We're pleased to bring this issue of the Statistics and Data Science Newsletter. As always, we look forward to sharing your updates. Please don't hesitate to be in touch. In any case, we hope that you and yours are well.
Professor David Cox, Chair of Statistics
SDS Fellow Projects
The Rosenblum Statistics and Data Science Fellows continued their work providing drop-in tutoring support for statistics and data science courses. In addition, projects this year included work with the advancement office, thesis consulting, and engagement with the office of sustainability. Here Elizabeth Zhang and Dasha Asienga are sharing the results of their project.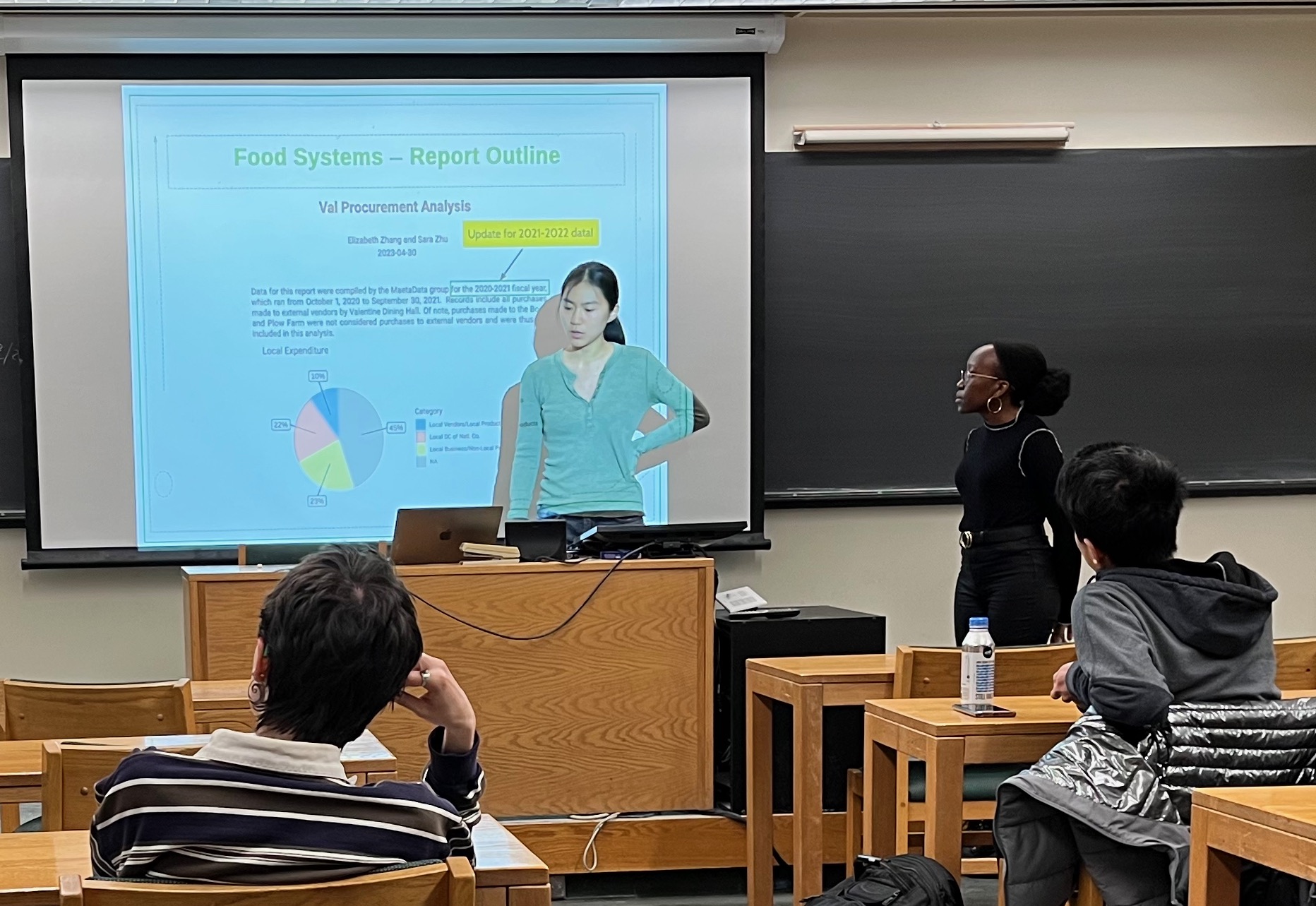 At a dinner for Fellows in December, President Elliott engaged in a spirited gift swap with students, staff, faculty, and family members.
Statistics and Data Science Colloquia
The Amherst College Statistics and Data Science Colloquium hosted a number of talks during the 2022-2023 year, including visits from Alan Agresti (University of Florida), Rebecca Andridge (The Ohio State University), Scott LaCombe (Smith College) Ruth-Gaelle St. Fleur (Brown University), and Daniel Sjoberg (Memorial Sloan Kettering Cancer Center).
Awards
Our students and alumni have again received a number of awards for their academic and co-curricular efforts. Congrats to the following honorees:
Clara Page '23 received the Breusch prize for best honors thesis in statistics. Clara was also the winner of the Amherst College Three Minute Thesis (3MT) competition (https://www.amherst.edu/academiclife/support/writingcenter/public-speaking/3mt)

Angelica Sang '24 received the Walker Leadership Award.

Kevin Jin '23 and Masahiro Nishikawa '23 received the Walker Award for Mathematics and Statistics.

Alex Brandfonbrener '23 and Beth Williamson '23E were named as recipients of this year's Amherst College Five College Statistics award.

Elizabeth Zhang '24 received the Walker Teaching award.

We're Amherst Proud of Masahiro Nishikawa ('23) for his award winning CAUSE USRESP project "Performance of LDA and QDA on non-normally distributed predictors"

Congratulations to our Mu Sigma Rho (national statistics honor society) inductees: Dasha Muyanzi Cherono Asienga, Bridget Cassata, Kevin Dai, Kevin Jin, Xinya Selena Hong, Justin Papagelis, Alastair Poole, Lucas Romualdo, Angelica Sang, Abbey Elizabeth Skinner, and Elizabeth Zhang.
Statistics Theses
We had a total of three thesis projects in statistics. Congratulations to this year's thesis writers and their advisors for their excellent work:
Visualizing Simpson's Paradox in High-Dimensional Contingency Tables using Copula Regression Kevin Jin (Advisor: Professor Liao)
Impact of Missing Data on Clinical Trials: A Sensitivity Analysis Approach using Pattern-Mixture Models Michael Pitts (Advisor: Professor Horton)
Assessing the Robustness of Inverse Probability of Censoring Weighting Clara Page (Advisor: Professor Correia)
DataFest
The ASA Five College DataFest was back in person at UMass after a four year gap. Three Amherst College teams won prizes for their analytic prowess.
Congrats to Tina Zhang, Kevin Dai, Ashley Bao, Sarah Wu, and Reihaneh Iranmanesh won the award for "Best Infographic".
We are proud of Will Wang, Ania Serbina, Will Wang, Selena Hong, and Sherry Jiang who won an award for "Best Insight".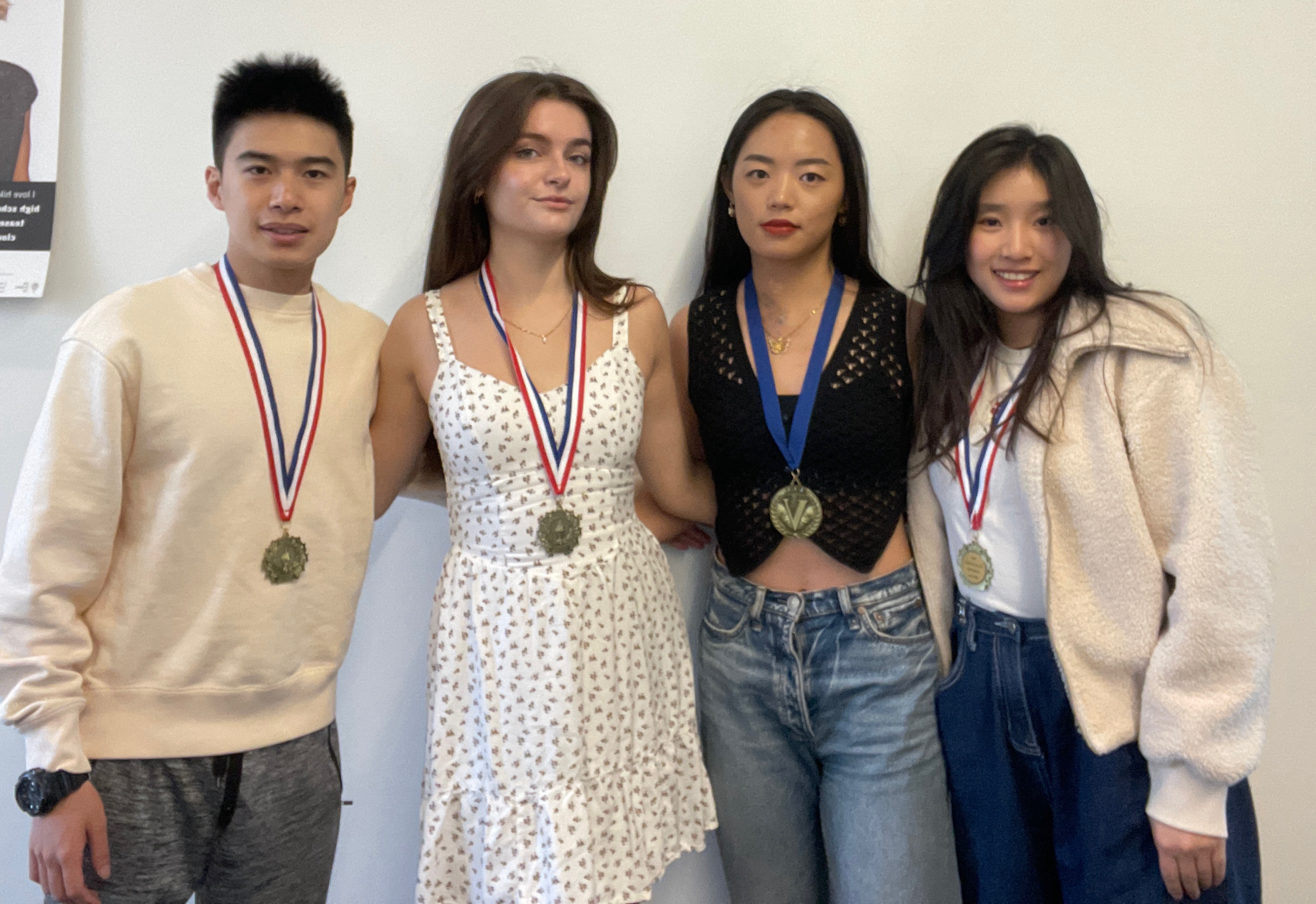 Finally, Clara Page, Emma Strawbridge, Dasha Asienga, and Josue Sanchez-Hernandez won "Best in Group".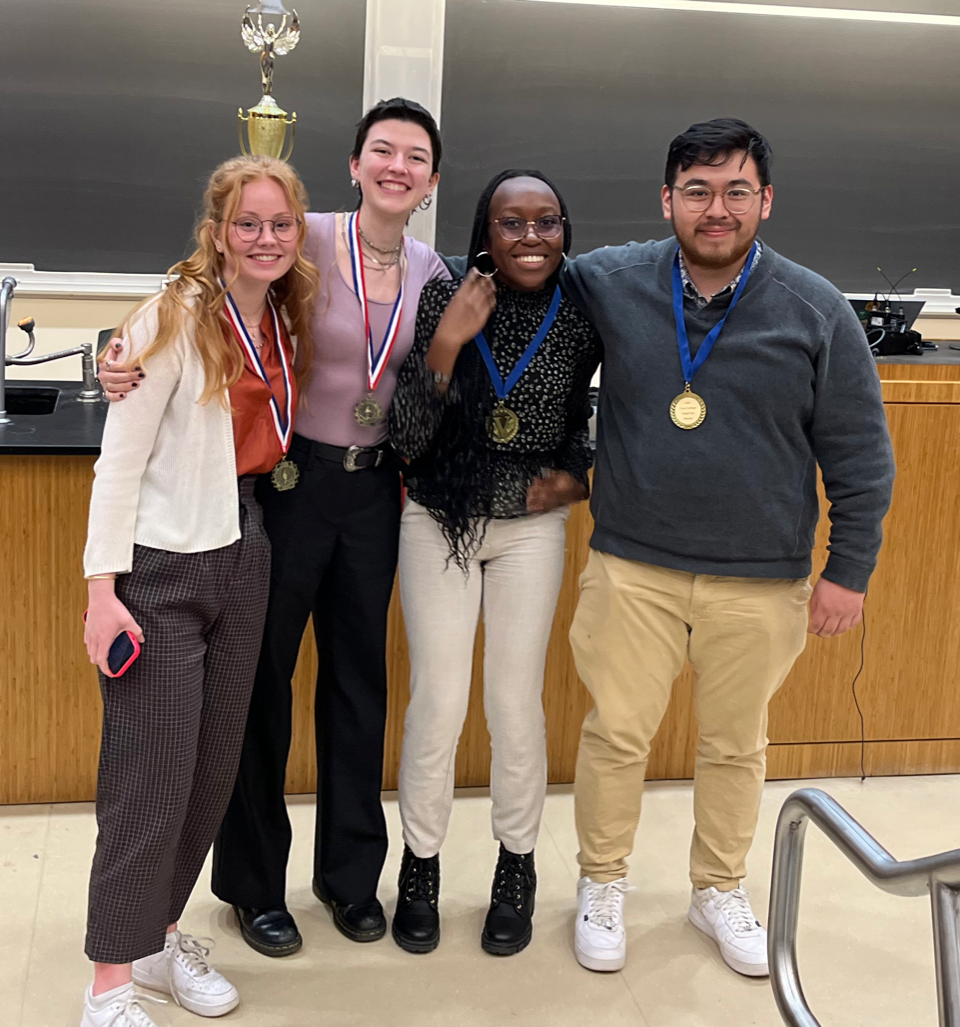 We are appreciative of the work of Andy Anderson (IT), who once again provided assistance before or during the event. See here for more details.
Statistical Ethics of Institutions (STAT108)
Amherst Alum and Visiting Scholar Andreas V. Georgiou taught a general education course on statistical principles and ethics (STAT108) this fall. The course discussed standards for relationships between statisticians and policymakers, researchers, the press, and other institutions, as well as interactions between statisticians and their employers/clients, colleagues and research subjects. Students explored how the interplay of institutions (e.g., organizations, systems, laws, codes of professional ethics) and the broader sociopolitical culture affect the production of reliable, high quality statistics. We are pleased that the course will be offered again in the fall.
Faculty Updates
Brittney Bailey
Brittney Bailey received the 2023 Mu Sigma Rho Early Career Undergraduate Impact Award for dedicated and innovative approaches to support and empower students through teaching, leadership, and efforts on behalf of the profession.
Nick Horton
Nick Horton received the Mosteller Award from the Boston Chapter of the American Statistical Association (serving members in Massachusetts, Vermont, New Hampshire, Maine, and Rhode Island). The award honors individuals from academia, industry, and government who have made exceptional contributions to the field of statistics and who have shown outstanding service to the statistical community, including the Boston Chapter. Dr Horton is recognized for his numerous innovative contributions to statistics and data science education.
Nick served as co-chair of the planning committee for a National Academies workshop on the "Foundations of Data Science for Students in Grades K-12". The workshop report is available for free download here.
Alumni and Student News
Brendan Seto '18 received the CDC 2022 Preventing Chronic Disease student research paper award for his paper Differences in COVID-19 Hospitalizations by Self-Reported Race and Ethnicity in a Hospital in Honolulu, Hawaii.
Graham Chickering '21 shares: "I am currently living in Boston but have been working remotely for the American Institutes for Research for the last 2 years as a Data Scientist. Overall a lot of my work involves projects with the US Department of Education and other government agencies and nonprofits across the country doing a lot of data engineering and data modeling work. I'm always happy to be a resource or talk to any students who are interested in data science work after college, and what work has been like working for a large research organization in the nonprofit space."
Jasper Flint '21 reports: "Since graduating, I've been doing research as a post-bac at the Yale School of Medicine, where there is a surprising number of other Amherst alumni. Always fascinated by high-dimensional biomedical data, I've been working on repurposing existing pharmaceutical compounds for human lung disease using next-gen single-cell RNA sequencing datasets. This fall, I will be matriculating into an MD-PhD program, where I plan to combine my interests in biostatistics and medicine."
Nicole Frontero '21E reports: "I moved to Madrid in September 2022 and am enrolled in a 1 year accelerated master's program in Computational Biology at the Polytechnic University of Madrid. The first semester I was quite busy with adjusting to life in Spain and taking 10 classes(!). This semester, I'm interning and doing my thesis with a research group called EPISAM at the Complutense University of Madrid's medical school. The group's focus is on psychiatric epidemiology and mental health. I've been enjoying writing my thesis, which focuses on using classification to predict risk of suicidal and non-suicidal self harm in adolescents."
Sabir Meah '21 shares: "I will be graduating with my MS in Biostatistics from the University of Michigan this spring, where the focus of my research with Dr. Bhramar Mukherjee has been statistical and epidemiological methods to determine COVID-19 vaccine effectiveness. As for my plans post-graduation, I have accepted a position as a statistician at the Urology Department in Michigan Medicine, the academic medical center at the University of Michigan. In particular, I will be working with the Michigan Urological Surgery Improvement Collaborative, a statewide program centered on improving patient outcomes related to prostate and kidney operations."
Ainsley Mackenzie '22 shares: "I have had a whirlwind of opportunities and changes over the past year. Two days after graduating from Amherst College (Biology and Statistics) I began an amazing summer internship with Biohaven Pharmaceuticals. The opportunity to work in the Global Health Outcomes and Economics Research group at Biohaven was very engaging and impactful. I am thankful for my mentors, Gil L'italien and Michele Potashman, for entrusting me with challenging work in this field and to the entire team who put together the summer intern experience. I am extremely grateful to continue to work as an intern this fall with the GHEOR team.
The work last summer and the professional and personal skills I developed are invaluable to me for the next phase of my learning path as a Master in Public Health student at Brown School at Washington University in St. Louis where I am specializing in Biostatistics and Epidemiology.
From Amherst to Biohaven to the Brown School — a wonderful whirlwind of opportunities, challenges and personal growth. Finally, much thanks to my parents for all their support, to my Amherst professors for the many opportunities to learn and grow, and to Amherst College for the amazing education and generous graduate studies award. I am excited to see all that is to come!"
Jessica Yu '22 shares: "I'm in my first year as a PhD student in the UW psychology program. I'm currently learning about latent class analysis and looking forward to applying what I learn to measuring physical limitations in older adults. I'm also an intern at the UCSF Institute for Health Policy Studies. In my free time, I've been trying local restaurants in Seattle and sharing them on my food Instagram."
Beth Williamson '23E writes that she will be attending Saint Andrews in the fall for a masters in data analytics and will be playing field hockey!
Xander Schwartz '23 shared that he will be starting work with the Cleveland Guardians as a data scientist in their research and development group for baseball analytics projects.
Last updated May 16, 2023
Copyright © 2023 Amherst College. All rights reserved.